From a former project: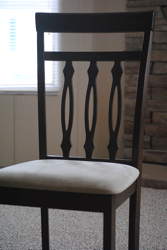 The house sat. Waiting. Wondering.
All of the heartbeats – humans, companion animals – were silent. The order and chaos of daily life was gone: alarms, meals, rushing, leaving, returning, walking, napping, playing, barking, voices, meows, sitting, sleeping.
Objects abandoned in mid-actions were scattered in unfamiliar locations. Some were overturned and communicated change.
The house sat. Waiting.
My thoughts:
Walking into this house shocked me. A lot of living had abruptly stopped one day. Now a lot of decisions had to be made.
My five senses picked up a lot of information. Some of the information I wasn't really ready for, but like always, I found meaning and significance in all of it. I made a plan with this information.
When I need to, I work well in chaos.
Sometimes homes are quiet and easy. Sometimes they are not.
When I work in chaos, I require information so I can develop a plan. Without the plan, the process grinds along in fits and starts.
People struggle. The process stops.
Individual plans change. The overall method never changes.