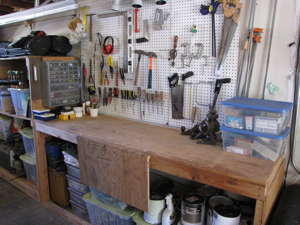 I dismantled and packed up a studio/shop last month. Sorting in the space was slow, as I had to establish groupings in empty bins and walk around locating items which I put into bins with a broad labels, such as "hardware," "hand tools" "power tools," "pneumatic tools" and "materials." As bins filled, the client and I realized we smaller bins with narrower labels was more efficient for future use. Dismantling spaces always reminds me how they need to be organized and set up.
Studios, shops and garages get messy from constant use. Not finding something you need can be problematic, and in some cases, dangerous or costly.
For example, working in an art welding studio is both fluid and structured. Timing for working with metal is crucial. If a tool needed during the heating stage isn't next to the artist and easily grabbed, the creation process can suffer.
Organizing a garage used as a shop can be challenging, as the space has many uses, often by several users. A person working on a project may experience delays to locate tools, parts and materials.
Organization can occur in at least two ways. If you organize by the project, your space may look duplicitous to someone. To you; however, it's organized for maximum speed, efficiency and flow.
In this case, if you create different products in your space that require different processes, materials, parts and tools to build them, then you make the products in separate areas dedicated to them. For example, if you are a table designer, and craft both wood and metal tables, you have two areas of your space devoted to tables, one for wood and the other for metal.
A second way to organize is to store materials, parts and tools in their groups. If you work on several projects at one time, then you continually search for what you need.
Which organizing system you choose depends upon how many useable square feet you have, how your brain works, who uses the space and the patters of activity there.
How did you organize your current workspace? Is this method working for you?
Regardless of the organizing method you use, creating, using and dismantling/packing up spaces requires organizing tools (boxes, bins, bags, Sharpies, notepads and other tools). Packing up the studio/shop last month reminded me that zip-loc bags are crucial. Obviously, keeping screws of the same size together makes it easier to use them. However, for packing, unpacking and establishing a new studio, Ziploc bags of many sizes are essential. Keeping items in Ziploc bags in a working space may not be safe or efficient, but keeping them together for a move reduces stress and can save money, too. Going to the hardware store to buy tools in the middle of projects because you can't find what you need gets costly. In the last project, I found a lot of both drill bits and Sawzall blades.
As with any organizing project, the only way to get started is to Start.
Assemble you organizing toolsin one place that's visible. As you use these tools, return them to the same place so you can find them as you work. If you are working with another person, both of you should have the same tools. Whether you work alone or with someone, you'll move around as you work, easily finding your organizing tools.
Clear an area in your spaceand put down a sheet or something to contain your items so you can see them and determine usability. Start with a small area of your entire space. Put items from that area onto the sheet and use empty boxes for sorting. Box categories could be "toss" "keep," "return to owner," "donate" and any other label pertinent to you and your work.
Tool donations can go to local building recycling stores (Habitat for Humanity or any local store), local community colleges with shop courses, art schools, local adult education centers, or grateful friends and neighbors.
Listing tools online sometimes brings unexpected complications. Consider the possible outcomes of posting.
If you're keeping items, sort them into smaller boxes for your space's final configuration. If you're moving to a new space, pack up your current shop/studio in groupings that make unpacking and setting up the new space easy.
When you get Stuck during the initial sorting, brainstorm solutions. The brainstorm helps you Solve your problem and move on.
If you're staying in your space, after sorting your items, clean your space. Sweep cobwebs down from ceiling and walls, clean horizontal surfaces and lastly, sweep/vacuum the floor.
Put the items (smaller ones in boxes/bins and large ones however they're stored) around your clean space. Walk through it and visualize working on projects. Work the projects to completion and take note of difficulties and where you got stuck ("stuck points") in your creation process.
Use your stuck points to re-evaluate your proposed organization scheme. Change placement according to the flow of creation.
Visualize your process again. If the new layout seems right to you, then it's time to set up your space.
Congratulations! Live well and create many things.