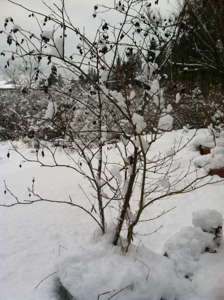 Getting ready for winter marks the transition from the warm, visual abundance of summer to the cold, stark beauty of winter.
During winter, we deal with power outages, incessant rain, snow and gray. Living in an area where we look up at gray skies and out at gray water can be difficult. Anticipating what's coming gives us a sense of control and readiness.
Check your home and outbuildings for winter safety and durability. Check your yard, too. The path of surface water may have a warm-season route which changes in a heavy rain. Is the water's winter path clear?
Inside your home, make space for winter clothes, activities and house maintenance needs.
Put away summer clothes and gear. If there's time, do a quick sort and clear your home of items that may clutter your winter experience. Winter is slower yet involves large clothes, tools and indoor toys. Coats, boots, hats and gear are bulky, and they require space to dry.
Tools and materials from summer home repair and maintenance may differ from the tools you need in winter. Store the summer-specific tools in long-term storage so you can quickly locate tools for winter projects.
As you make changes for the traffic and flow of winter, clear an area for materials related to issues associated with winter.
These materials may include medical information and supplies (people and pets) for winter-related accidents and illnesses. You may want food, water, light sources, clothing and blankets in case the electricity goes out. Family games and activities during power outages can help keep spirits on an even keel. Additional tools for power outages and winter events vary with individual needs.
Part of winter is honoring memories of loved ones who have passed away. In the quiet of winter, you have time to reflect upon and remember holidays celebrated tougher and special annual activities.
How you honor them and invite those relationships into your holiday season is important. It's a personal decision, one that you may not completely understand. If it feels right, then it is. When it comes to grief and loss, we know what we know at a deep level, often without words and descriptions. What we think and belief about loss is part of the fabric of whom we are.
I wish you the best for fall and winter.