From a former project: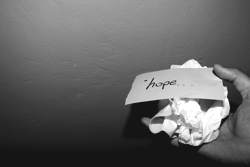 The crumpled paper bag on the desk pulled at her.
The woman looked at the bag and took a deep breath. She was determined that her home, in six months, would be spacious, calm and inviting. She would invite friends for dinner. She would host her book group here.
She wanted to sit in her favorite chair, put her feet up and enjoy her home. No more anxiety. No more shame. And enough with the hyperventilating. She was sick of it. "I can do this. My stuff does not rule my life. I will clear this clutter without all the internal commentary."
My thoughts:
We all struggle with clutter. We live our busy lives and don't take time to really look around our homes.
And then we lose our keys, wallet, favorite pen or a lucky rock. We spend hours or days looking for lost items and find them under other stuff.
So we look around out homes and see stuff we don't even like. Stuff we just more around to get it out of the way.
Why is clearing clutter so hard?
Brain science.
We attach such deep significance to our stuff that we freeze when we consider listing it on a Buy Nothing site or taking it to a local charity. Objects become much more than objects.
I'm one of those people who needs facts and data when life spits out chaos. I need to understand what drives people to do what they do. When I understand, then I can drop a lot of mind clutter and go to a place in me that is quiet and compassionate. From this serene space, I can handle what needs to be dealt with and let go of what is not mine to (try and) control.