A story shared with me: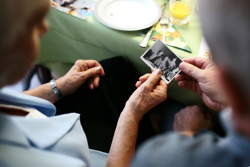 She sat on the steps to the house and looked at the street. It looked the same as many years ago. She saw herself all those years ago riding her bike.
She couldn't look at the house, let alone go inside.
But she had to.
She couldn't.
So she sat. And felt like a complete failure.
She answered her phone when the ringtone shook her out of her fog. Her staff needed some direction with arrangements for a presentation she was giving to the directors tomorrow.
My thoughts:
We all end up on those steps. Well, not those actual steps, but other steps, porches, driveways and such. We are about to walk into the home of a relative that has passed on and clear out the house. Yep. Just like that.
Nope. It is not that easy.
Memories haunt us. Other family members want us to hurry up and finish. People are looking for specific items and want to know when they'll arrive at their houses.
Grief is a tricky thing. One moment you are strong and the next you are sobbing, grasping a sheet of paper with "milk, eggs, flour, Brussel sprouts and cabbage" scrawled on it in those familiar flowing letters.
There are a lot of great organizing books out there. They don't help though, when you are clearing clutter in deep grief and are simultaneously handling inter-family issues while also raising your children, helping your spouse with a big project and also handling one crisis after another at work.
I created this workshop after I completed a project and simultaneously was handling some family matters. I needed a template to follow so that they whole ordeal would be easier.
When I mention this workshop, people tell me their stories. They are powerful, moving and inspirational. I am honored to do this work.