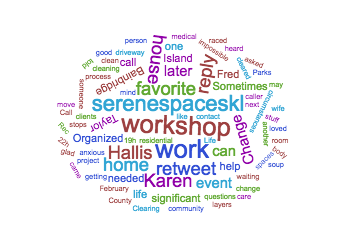 Typical life can seem mundane. However, things you take for granted: getting up in the morning (or evening if you work at night) and going to work, having meals and interacting with loved ones after work, running errands on the weekends and family outings, can change in an instant.
A significant life event is deeply personal. An event that is significant to one person may not be significant to another. Overall, it is difficult and at times, feels impossible. The flow of your life stops the moment of an event or a medical diagnosis (yourself or a loved one).
Story
Taylor answered the phone and parked her car in the driveway. The caller identified herself and asked Taylor a series of questions about her father and Taylor's legal status to make medical decisions for him.
Her heart raced. She was freezing and heard pounding. She forced herself to listen. "We are glad you put your dad into hospice care last week. He collapsed today and is not responding. It looks like he will die in the next 24 hours." Taylor interrupted to ask questions. She needed to calm her anxious mind. When she got the information she needed, she knew the caller was right.
Her mind raced, spitting out details: her toilet didn't work and she was waiting for the plumber to call her back. Her special needs child couldn't fly, so she needed to arrange for his care. She had to get emergency time off work. She had to clean out her dad's room at the residential community.
Her stomach growled. She'd forgotten to eat lunch. She ignored her hunger and finished the call.
She broke down in her driveway. Silent sobs wracked her body until she heard her screen door slam. Her son's babysitter was coming out. She stood up and shook her body like she'd seen her cat do after being chased by the neighbor's dog. She wiped her face as she walked towards their home. Her son was hungry.
-------
After these life-changing events, someone has to clean out a room in a residential community, a house, an apartment, or other spaces. Sometimes the cleaning project immediately follows the event. Sometimes the project happens later, depending on the circumstances.
Sometimes the house sits empty, waiting. A relative or two may move in. That can be problematic later on, when the house has to be sold.
Clearing out a home or a space is a process. There are layers and layers of grief that mingle and swirl together, making it impossible for the person cleaning out the house to identify exactly why they are anxious, sad, depressed, angry, lost and/or hopeless. Guilt becomes part of the equation, too.
I created my workshop, Changing Places: home in transition, in 2014. I realized the process of clearing out houses loosely followed a formula. I wrote the workshop and the committed staff at Bainbridge Island Parks & Rec agreed to give the first workshop in February 2015.
One participant ("Fred") later told me that he went home and cleaned out a closet. Then he cleared out another one. Fred's wife came home and was thrilled! He taught her what he'd learned at my workshop, then they cleared their entire house out. Their neighbors came by later and asked if Fred and his wife would help them clear out their belongings, as they were moving for job transfers on the East coast. Fred was glad he's taken my workshop and told me to keep up the good work.
The next workshop is on Saturday February 4thfrom 9-12 at Bainbridge Island Parks & Rec. Sign up online www.biparks.orgor call 206.842.1616. Questions about the workshop? Call or email me.
Thanks for reading! Do you know someone who can benefit from my blog? Send it to them or share it with your network.