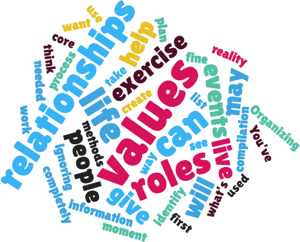 Once a person has reached the Moment of Change, the next question is "what's next?"
Organizing is an inside job.
It starts with you. You are a compilation of thoughts, ideas, words, values, actions, relationships, and scenarios. Some are recent; some are not.
Today, in this moment, you are uncomfortable with a situation, pattern or reality. You've wanted things to be different for a while. You've tried a variety of methods, plans and tools. The results weren't what you hoped for, but they were fine. And then, during a rare quiet moment, you realized that "fine" isn't what you want.
So here you are.
I use a "Who What Why" exercise with people and groups to help them accomplish a goal or plan. I used this exercise with my investigations when I was a forensic custody investigator with additional categories and analytical methods created specifically for the legal system and the mandated scope and role.
This exercise helps people remove some of the biases, stories, drama and other clutter so they can see what's actually going on, make changes and create a living, breathing plan that will shift when needed.
Whoare you?
You may have answered by listing your roles, labels, relationships and achievements. I hear that a lot. Society trains us to think that way.
Who you are is the compilation mentioned above and much more. Your life may be complicated, preventing you from being in touch with how you feel. You may not have the time or space to think about how you want to live in and experience your life.
Knowing what your values are can give you stability throughout your life, regardless of challenging events. Once you identify them, they will give you consistency, your "youness" that you can explore, understand and count on. Trainers use values in their work. You have probably been to one of these trainings and identified your values. If not, Google "values" and find a reputable website with a values list and helpful information. Circle every value that speaks to you. Then winnow them to a list of five or fewer. These are you core values.
These core values will help you live your life in a way that feels right to you. When you live in alignment with your values, you can "yes" to what matters and "no" to what's not in your best interests.
Whatdo you do?
Look at your roles. Enjoying positive rewards and success in your roles depends of you being solid within yourself.
If you work 60 hours a week, manage your household, raise children, maintain relationships, help family members, when needed, volunteer and have fun nights out with friends, you simultaneously operate fifteen (give or take a few) active roles.
How are you feeling? Overwhelmed? Exhausted? What are you pushing aside for later? What are you completely ignoring that won't stop pulling at you?
Whydo you do what you do?
Figuring this out can be a slow process, at least at first. Once you take the first few steps, you start to piece together the jigsaw puzzle that is your life. You see relationships between events that had appeared to be completely random and pointless. During this process, you identify strengths and admirable qualities you'd been ignoring due to negative events and people.
This information pushes you to step in to all of you, to let go of limits imposed by others or beliefs that no longer serve you. When you organize yourself, you naturally begin to create a life and reality that nurtures, supports and grows with you though all of life's dynamic teachings.
This blog is solely informational and is not intended to be used as therapy. If you need assistance with challenges, consult a trained and licenses therapist.
The following books were used: Towards a Psychology of Being, Abraham H. Maslow, Ph.D. (1962); Man's Search for Meaning, Viktor E. Frankl, M.D. (1956, 1962, 1984, 1992, 2006); Flourish, Martin E.P. Seligman, Ph.D. (2011); Flow, Mihaly Csikszentmihalyi (1990).