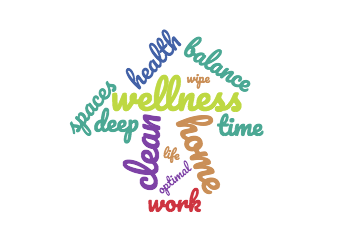 What is wellness?
Wellness can be defined as a healthful condition through proper diet, exercise and preventative medicine.
Another definition (mine), learned and earned through years of research, is "A state of overall being where an organism has achieved, for that organism's particular body, mind, spirit and the environment where it lives, an optimal balance in and of its physical (musculature, blood, bones and all organ function), emotional, mental, spiritual and environmental systems."
I use "organism" because it's easier to calculate one's optimal, for instance, physical health by removing language and story about oneself. When I began investigating the what optimal physical health meant for my body, all the details of what it meant to be a person blocked my self-awareness. When I dropped the "me" and "my" from my studies, I observed myself as an organism and was able to identify how the body, mind and spirit function at their basic levels and how their interact to create an optimal balance.
Why discuss Wellness today?
The spread of the novel coronavirus, named "SARS-CoV-2" and the disease named "coronavirus disease 2019," abbreviated COVID-19, created a public health crisis and changed how we think about wellness. Until a short time ago, we knew wellness was important. We knew we needed to think about eating better, drinking more water, limiting tech time and exercising more often.
We didn't think much about washing our hands, how close we stood to people when we talking to them at gatherings, how we behaved when we coughed and the fact that we touched our faces.
Touching our faces?
Yep. Touching our faces is at the forefront of discussions about slowing the spread of COVID-19.
Wellness is now a hot topic.
Wellness is a multi-dimensional concept. There are many aspects to it, and through my thirty+ years of research, I see that everything is connected and in a fluid balance.
That balance changes as we go through life. We try to focus on the good times and avoid thinking about difficult experiences. However, the negatives can be our best teachers. As we emerge from the mud-covered fog of those events, we realize that there is gold in our grief, loss, rage and sorrow.
This public health crisis can be a time of great learning.
One of the lessons of this crisis can be a new awareness of wellness.
Wellness will make us stronger as we navigate the changing circumstances that COVID-19 creates as it winds its way around the world on a perplexing path.
For this first entry about managing the impacts of COVID-19, I'll focus on environmental health, specifically, spaces we occupy. Whether we're at home, work or are attending activities out in public, cleanliness and safety now matters than a few months ago.
COVID-19 appears to be spreading in a way that's currently unclear. Therefore, each one of us is own best defense against being infected by it.
In terms of spaces we occupy, to reduce exposure to germs, we can cleaning our homes and work areas and change how we operate in meeting spaces. We can increase our safety in public places (including meeting places, gyms and sports arenas) by following personal protocol and follow the guidelines for maintaining personal health in those venues.
If we're in spaces we can't control, we can avoid learning on or touching surfaces. If we must touch surfaces, we can wipe them with a disinfecting cloth first. If sitting on something that can't be cleaned due the material used to make or cover it, we can be mindful about the fact that the seat may not be "clean." As an example, wiping a vinyl-covered seat on a bus is easy. Wiping down a cloth-covered seat may not be.
Deciding to deep clean a home or office is a big commitment. We usually only deep clean in spring or right before a large gathering. COVID-19 gives us an "opportunity" to do that deep cleaning now. And then to regularly clean spaces to preserve deep clean.
The process for a home or a workspace is the same. To keep the explanation simple. I'll talk about cleaning homes. I've been in homes over the past fifty years; I started helping my mother with her Swedish Death Cleaning work when I was a kid. She was an immigrant from Sweden and needed to continue her work, which is part of the culture in Sweden. It was handed down to her from her mother and she passed it on to me.
When I talk about it, people from other cultures come up to me and tell me that it is a part of their cultures, too.
Keeping a clean home is part of this cultural work. As I talk about it here, it feels as if there are two people, one over each shoulder, peering into my laptop's screen.
Before we start cleaning a home, we assemble the tools.
When cleaning for typical life, we have a lot of choices for cleaning agents.
When cleaning to protect ourselves, our families and visitors from germs, the choices are limited. Disinfecting surfaces requires certain cleaning agents that sit on surfaces for a specific period of time. Read the facts about the germs you're attempting to kill in your home and the amount of drying time needed to kill them.
A deep clean of a space starts at the ceiling/molding level and works down to the floor.
Before you start the cleaning process, look up and imagine the fall pattern of the dirt and dust as you clean the ceiling and molding. Do you want to cover objects (furniture, items, the dog)? Do you want to cover your head? Consider the type of gloves and clothes you'll wear. Do you want to use a mask? Masks are rated for various abilities. A mask that protects the wearer from dust is different from a mask that is rated to protect the wearer from germs.
An overall rule: wipe in one direction. This can prevent re-infection of an area you've just cleaned.
Change your cleaning "pad" often, whether it be a sponge, cloth or thin material of some type. Simply rinsing the pad may contaminate the whole thing. Do you put disinfectant in the rinse water or is the rinse water free of any additives?
Once you've wiped at the ceiling/molding level, before you wipe the walls, check the material on the walls first. Is the surface cleanable? If the wall is painted with a type of paint that's not cleanable, wiping it may affect its look and feel.
If the wall is covered with paper, is that wallpaper cleanable?
I cleared out a house years ago that initially had a strange odor. I realized within minutes that its source was the fabric wallpaper. It had absorbed everything that took place in that house and it wasn't cleanable. If fabric wallpaper or paint that's not cleanable is on your walls, check with a professional to find out how to properly clean them.
As you proceed down the walls, when you reach the level of horizontal surfaces, remove whatever's on them and wipe the surfaces in one direction. After the required dry time, wipe the items before replacing them.
During my three-day clean after the COVID-19 outbreak, I tossed some items that had deep (positive) emotional significance to me. The loved ones with whom I associated those items died recently. These items could not be sterilized, due to the material they were made from.
As I looked at each item, my first thought was "Time to let this go."
A wave of grief slammed into me. I rode it out, using tools I've developed and had the thought "These are grimy and are just stuff. They don't represent my bond with them."
Observing myself, I walked these items out to the outside trash after placing them in a bag which I tied with a silent statement to each of them.
Walking back to my house, I was shocked by how easy that that "letting go exercise" was. A few months ago, I'd looked at the very same items and could not part with them.
Why was it so easy now?
A real threat to my wellness changed my filters.
I am now at my optimal health and want to stay that way. An object that's grimy and can't be cleaned could pose a problem to my well-earned balance. I easily let go of those objects.
I continued my project. I washed and returned some of the items to horizontal surfaces. I cleaned door knobs, light switches\ plates, blinds and window latches. If washing windows, you'd wash them last. Cleaning blinds is messy and leaves dirt spots on windows.
Cleaning bathroom and kitchen fixtures was easy. Cleaning my medicine cabinet wasn't, as I examined each item and washed the empty cabinet inside and out.
I looked through and cleaned my emergency (earthquake) kit.
Lastly, I moved all rugs and swept my linoleum with a soft broom. I swept in small areas and immediately scooped dirt into the dustpan. Working rhythmically from the doors, I was careful to not drag dirt through my house from doors to the interior. I then cleaned the floor with a strong agent and an old-fashioned mop with a natural sponge head. I also took a hand sponge and made a second sweep. I let the floors dry completely before putting the rugs back down.
I bagged big laundry items for the laundromat.
My last task was to clean the inside of my car. It now smells faintly of bleach and peppermint. I renewed my "no food or drink" rule. This keeps the car clean and doesn't attract rodents who may be looking for a new home as spring emerges.
From recent conversations, here are a few gold nuggets:
wash and sanitize children's toys;
sanitize smart phones, telephones, iPads, all touch screens and remotes (bag then when cleaned);
when traveling on planes, trains and other modes of transportation, before sitting down, sanitize seats, armrests and all touch points. If you must sit on fabric-covered seats that can't be sanitized, consider sitting on a piece of plastic that can be rolled up and placed into a zip-lock bag that's tossed in the trash when you exit;
clean and sanitize your glasses often, especially if someone sneezes or coughs near you;
if you use medical equipment, clean it according to manufacturer's instructions;
if you use prosthetics, sanitize them often. If you use a material or something with them to make them more conformable, sanitize that too;
if you are in a wheelchair, sanitize it often. Be mindful of its cleanliness and make your preferences clear about who touches it and whether they have sanitized their hands first;
if your immune system is compromised, be vigilant about every contact you have. Be straightforward about your health needs.
Once you clean your space, you will notice the difference. For wellness in your clean home, you may want to make policies about inside and outside shoes and clothes.
Living in a clean home may affected how you see the world. For instance, when you go grocery shopping, maybe you grab a paper towel from the produce area and hold that paper towel as you select produce.
Your wellness is your own and is your determination (made with healthcare professionals). As you work with the concept of wellness, you'll build habits and patterns that lead you to both feel great and experience balance in all aspects of life.
Every small change we each make to become healthy and strong builds our individual, local community and global wellness. We can hope that we can slow down the spread of COVID-19 (and all germs) by living differently and following the rules laid out by healthcare professionals, as in thorough hand washing, covering coughs, staying home when we're sick, not touching our faces, and all of the other proactive measures that may help stop the spread of this novel virus.
For information about this outbreak, see www.cdc.gov or your local or state public health website.
Thank you for reading these thoughts. If they are helpful, please pass this blog on to people you know. If these thoughts reach anyone who lives or lived in a culture that has a cultural norm around cleaning, please let me know! My hope is that I can learn how many cultures actually have the practice of _____ ______Cleaning or whatever it is called.